MATCHING MOLE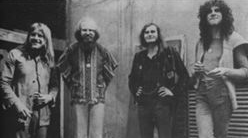 Left to right: Robert Wyatt, Dave MacRae, Bill MacCormick & Phil Miller
---
FREQUENTLY ASKED QUESTIONS
When was Matching Mole formed? When did it split up?
Matching Mole was formed in October 1971. It split up in September 1972. It almost re-formed in May 1973, but this was prevented by Robert Wyatt's accident on June 1st, 1973.
What were the main line-up changes in the band's history?
The band's original line-up consisted of Robert Wyatt on drums, vocals and occasional keyboards, Phil Miller on guitar, Dave Sinclair on keyboards and Bill McCormick on bass. The band was later augmented by a second keyboard player, Dave MacRae, who had guested on the debut album and eventually replaced Sinclair [line-up shown on above photo]. The projected line-up for the new incarnation of Matching Mole in May 1973 included Wyatt, McCormick, Gary Windo on saxophone, and Francis Monkman on keyboards.
How did the original members meet? Had they worked together previously?
Dave Sinclair and Robert Wyatt were both ex-members of the seminal Canterbury bands The Wilde Flowers, although not at the same time. Sinclair had guested on Wyatt's debut album, "The End Of An Ear", during the summer of 1970. Phil Miller was previously in Delivery and DC & The MB's and was vaguely aquainted with Wyatt through Pip Pyle and Lol Coxhill. Bill McCormick, previously in Quiet Sun, was a longtime acquaintance of Soft Machine. Wyatt had met Dave MacRae when auditioning as the new drummer in Nucleus following John Marshall's departure.
Why did they choose the name Matching Mole?
"Matching Mole" was a pun on the French title of William Burrough's novel "The Soft Machine" : "La Machine Molle".
How many albums did Matching Mole release? On which labels?
Matching Mole released two studio albums for CBS, "Matching Mole" (1972) and "Matching Mole's Little Red Record" (1972). In 1994, Windsong released BBC Radio 1 Live In Concert, a 30-minute live CD recorded for the BBC at The Paris Theater, London, in July 1972. In 2001-02, Cuneiform Records released two CDs of archive recordings : "Smoke Signals" (mostly radio sessions) and "March" (a live performance from Amsterdam in March 1972).
Have these albums been reissued on CD? On which labels?
Both studio albums are available on CD. They were first reissued by Epic/Sony in Japan in 1991, then by Columbia/Sony in Europe and America in 1992. The latest reissue of "Little Red Record" has a slightly altered running order, beginning with "Gloria Gloom" as originally intended.
Why were particular titles chosen for albums and compositions?
"O Caroline" - Caroline Coon (of "Release" fame) was Robert Wyatt's girlfriend after he split with his first wife
"Dedicated To Hugh, But You Weren't Listening" - an obvious reference to Hugh Hopper's Soft Machine composition, "Dedicated To You, But You Weren't Listening" (from "Volume Two"). Both titles are pronounced the same in English, although this isn't obvious to foreigners.
"Nan True's Hole" - Robert Wyatt : "It is the name of a house, that a friend of mine owns, in Sussex. And the origin of the name, I imagine, is that it was the home or hovel of a woman with special powers, perhaps, who lived on her own, called Nan True, who was perhaps a fortune teller, a witch of sorts who lived in this house... My friend had inherited this house, and I just thought, this name is too good to waste on a house! Phil Miller agreed, and it turned into a piece of music".
"Brandy As In Benj" - Benj Lefevre was one of the band's roadie (having previously worked for Nucleus, Delivery and Soft Machine), and did so until August 1972; he later worked for Led Zeppelin.
"Gloria Gloom" / "Flora Fidget" - Bill MacCormick : "Gloria Gloom was Julie Christie's nickname for Alfie and Flora Fidgit Alfie's for Julie. I just lifted them 'cos they sounded good".
Who were the band's main composers?
The first album was mainly written by Robert Wyatt, with Phil Miller and Dave Sinclair each contributing a composition. Little Red Record was a more democratic effort : Wyatt only wrote the lyrics, and the music was written by MacRae, Miller and McCormick on an equal basis.
How much, and where, did the band tour?
A chronology of Matching Mole's tours is available on this site.
Between January and September 1972, Matching Mole toured England and Europe very extensively, notably supporting John Mayall (April) and Soft Machine (September). Bill MacCormick : "Whilst Mole never did a great deal in the UK, the response on the continent 'cos of Robert, and the Softs link made it a different deal. In 1972 Mole would have been getting the princely sum of 50-100 pounds per gig in England (!), in France, Belgium and Holland you could times that by ten, plus we would do live TV etc. When we played the Olympia, Paris as a support to John Mayall I think it's fair to say that as many people were there to hear us as Mayall. The Softs were a substantial act on the continent. They sold records and sold out big concert halls. The 1972 Softs/Mole tour was a sellout of pretty big places (e.g. the Doelen in Rotterdam and Concertgebouw in Amsterdam)".
What were the reasons for the band splitting up?
Matching Mole's split was essentially Wyatt's decision. "It finished because I don't have the qualities of leadership, I don't want to run things... I became the focus of attention when we played. Not because I'm a nice shy person or anything, I just wanted to be a quarter of a group. Also drink problems, equipment problems, I just couldn't handle it".
Bill McCormick : "I think it would be fair to say that when Robert decided to break the band up, it came as a surprise to everyone apart from him".
Phil Miller : "Bands have a natural life as such and that one had a fairly short one... Robert got tired of it, didn't want to do it anymore, which is fair enough. I guess he had something else in mind that he wanted to do, and a band's a big responsibility, it's something you need to hold together, but you can't do it at that intensity for that long...".
A few weeks before his accident, Wyatt attempted to form a new version of Matching Mole : "But at the end of it, Dave MacRae wanted a trio which concentrated on me on drums and I didn't want to be corralled into that again. We did do some gigs as a trio, me and Dave and a bass player [Ron Matthewson], but I wanted to start singing properly. I also met people who hadn't been into the jazz thing at all, like Francis Monkman, who was into working out composed structures. I was working on both of these things really when I broke my back, so obviously that put paid to them both because I couldn't drum anymore, and I didn't really feel like singing either".
Where are they now?
Robert Wyatt took some time off in Italy with his new girlfriend (and future wife) Alfreda Benge, during the winter of 1972-73. Back in London, he formed an informal improvisational quartet, WMWM, with Gary Windo, Dave MacRae and Ron Mathewson. The quartet had a short residency at the Ronnie Scott's. Then there were plans for a new Matching Mole line-up with keyboard player Francis Monkman, ex-Curved Air, and Bill McCormick. Fred Frith was considered as guitarist, but Windo was eventually chosen. After Wyatt's accident on June 1st, there were plans for the new band to rehearse with another drummer while he was recuperating, but it soon appeared that he would be confined indefinitely to a wheelchair and these plans were abandoned.
Phil Miller moved on to Hatfield and the North, on whose first album Wyatt guested on vocals.
Dave MacRae continued to work with Nucleus until 1973, then moved on to session work and formed his own band Pacific Eardrum with his wife Joy Yates. In the early 1980's, he worked again with Wyatt on a few songs. His is now living in Australia, mainly working in duo with Yates (they had a one-week residency at the Ronnie Scott's in January 1998).
Bill McCormick moved on to politics, while also working extensively with his ex-Quiet Sun colleague Phil Manzanera (now in Roxy Music). In the late 1970's, he was in the band Random Hold. He subsequently left the music scene altogether.

Last updated : March 2004