KHAN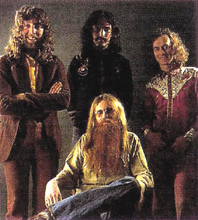 Steve Hillage was originally the guitar player in the pre-Egg band Uriel (a/k/a Arzachel), but left them when - unlike his colleagues - he decided to continue his studies, eventually ending up... in Canterbury, needless to say! However by late 1970, he decided he'd had enough, went back to London to form his own band, Khan, having written a lot of songs while at college. He recruited Nick Greenwood on bass (formerly in the Crazy World Of Arthur Brown), and subsequently two former colleagues of Greenwood's (featured on his 1972 solo album "Cold Cuts", which was actually recorded before the Khan days, in California) : Eric Peachey (also ex-Dr.K's Blues Band) [that's the one with the huge beard !], and organist Dick Heninghem. Interestingly, Khan's original drummer was none other than Pip Pyle, but he quickly left to join Gong instead.
Through his friendship with Caravan, forged while a student at the University of Kent, Hillage signed a management deal with Terry King and joined the Deram roster. By late 1971, the band were preparing to enter the studio to record their first album when Heninghem left. Hillage summoned his old mate Dave Stewart and asked him to play on the album, which Stewart of course did on the spot. It's amazing how good our favourite keyboard player plays on this album, given the reduced amount of prior rehearsal. As a matter of fact, the music on "Space Shanty" is quite complex, and the four performers absolutely shine. It can be described as progressive rock rather than typical Canterbury music, but in any case this album is a definite classic of, let's say, 'cosmic-jazzy-progressive' rock.
It is not known over what period of time Hillage wrote these songs, but many bands would be happy to have so many good ideas in their whole career. Quite simply, the music changes all the time, yet it flows effortlessly. There is definitely an exceptional band interaction here, and it can be argued that Hillage never found such a fruitful context to express himself, and this probably is his most consistent and groundbreaking work ever. The tracks are all in the 6-10 minute range, each would deserve an individual review, so all I can recommend is to LISTEN to it! You'll never regret buying this (unfortunately, the CD versions are currently out of print but an enhanced reissue with bonus tracks is expected in the near future.
Following a tour promoting the album in June 1972 (with one Val Stevens taking over keyboard duties), Greenwood left, eventually releasing a solo album which has become one of the most expensive item on the used vinyl market. He was replaced by Nigel Griggs (later of Split Enz). Following the split of Egg the previous month, Dave Stewart also joined as full-time member, but this line-up would prove shortlived. After a few gigs in the Autumn (including one as part of Chris Cutler and Dave Stewart's Ottawa Music Company), Hillage decided to join Kevin Ayers' band for a tour of England and France, and eventually Gong.
Would this be the end of Khan? Well, not completely. A substantial amount of the material on Steve Hillage's first solo album, "Fish Rising", was actually considered for the aborted second Khan album (Dave Stewart guests on organ, by the way). It's really too bad the band didn't last longer...
There is a chronology of Khan's career on this site.