IN CAHOOTS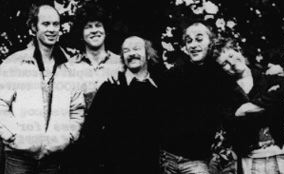 In Cahoots 1984: Richard Sinclair, Phil Miller, Elton Dean, Peter Lemer, Pip Pyle
---
FREQUENTLY ASKED QUESTIONS
When was In Cahoots formed ?
In Cahoots was formed in November 1982.
What was In Cahoots' original line-up? What is the current line-up?
In Cahoots started with informal rehearsals involving Phil Miller, Richard Sinclair and Pip Pyle, who were soon joined by Elton Dean, then Peter Lemer [this quintet line-up is shown on the above photo]. The current line-up consists of Miller (guitar), Lemer (keyboards), Fred T. Baker (bass), Mark Fletcher (drums), and newest recruits Theo Travis (sax) and Simon Finch (trumpet).
How did the original members of In Cahoots meet? Had they worked together previously ?
Phil Miller, Richard Sinclair and Pip Pyle had been together in Hatfield and the North between 1972-75. Miller and Pyle had also played together in National Health between 1977-80.
Pip Pyle and Elton Dean had been playing together in Soft Heap since 1978. They had previously toured Europe in 1976 in the unrecorded quartet The Weightwatchers alongside Keith Tippett and Jim Richardson.
Why did they choose the name In Cahoots?
"To be in cahoots with somebody", means "to be planning something dishonest with somebody".
How many albums have In Cahoots released?
In Cahoots are featured prominently on Phil Miller's solo albums Cutting Both Ways (1987) and Split Seconds (1989). Later albums have been released under the name Phil Miller / In Cahoots : Live 1986-89 (1991), Live In Japan (1993), Recent Discoveries (1994), Parallel (1996), Out Of The Blue (2001), All That (2003), Conspiracy Theories (2006) and Mind Over Matter (2011). Which makes a total of eight studio albums and two live albums. Miller has also released the solo album Digging In (1991), which features several members of In Cahoots, and Double Up (1992), a duo album with Fred Baker.
Why were particular titles chosen for albums and compositions?
"Cutting Both Ways" - means "having two appropriate and opposite ways of being applied", referring of course to the dual approach on the album, with In Cahoots tracks on the one hand, and Stewart-Miller duos on the other.
"Hard Shoulder" - this phrase refers to the strip of hardened land beside a motorway for vehicles leaving the road in an emergency ("bande d'arrêt d'urgence", in French)
"Figures Of Speech" - means "words or phrases used for vivid or dramatic effect and not literally"
"Split Seconds" - a "split second" means "a very brief moment"
"Dada Soul" - Phil Miller : "My wife Herm wrote the words to that song. The title comes from a letter from a Spanish fan who asked, 'was Richard Sinclair the Dada soul of Hatfield?'...".
"Double Talk" - means "a kind of talk that means something very different from its apparent meaning"
"I Remain" - this title is obviously a reference to "Truly Yours", of which it is actually an adaptation for Midi instruments by Miller and Stewart
"Digging In" - "to dig in" means "to begin eating or working energetically"; "to dig oneself in" means "to dig a defensive trench or pit" or "to establish oneself securely"
"No Holds Barred" - means "all methods are permitted"
"Speaking To Lydia" - a reference to Lydia Domancich, elder sister of Miller's ex-Hatfield colleague Sophia?
"Chez Gégé" - referring to Gérard Lhomme, a.k.a. 'Gégé', at whose studio in Chennevières-sur-Marne (Gimini) Recent Discoveries was recorded.
"Simmer" - "to simmer" means "to be in a state of excitement or anger or laughter which is only just kept under control"
"Billow" - a great wave
Who are the band's main composers?
Almost all of In Cahoots' material is written by Phil Miller, but there are exceptions. Live 86-89 includes Hugh Hopper's "Wanglo Saxon", Elton Dean's "Janna" and Steve Franklin's "All Is Not Lost". The studio album Recent Discoveries (1994) includes Elton Dean's "Riffy" and Fred Baker's "The Opener", while All That (2003) included two pieces first performed by the band in 1998, Peter Lemer's "Big Dick" (a tribute to saxophonist Dick Heckstall-Smith) and Fred Baker's "Upside" (a.k.a. "On The Up Side Of Things").
How much, and where, has the band toured?
A chronology of In Cahoots' tours is available on this site.
What were the reasons for members departing?
Richard Sinclair, on his departure in 1985 (from a 1991 interview with Barry H. King) : "We were doing concerts where people loved the music, but the band felt we were getting the music wrong, and I think I was probably the one getting it most wrong, being the most technically inept. I wanted to do the singing, but there wasn't a lot of singing for me to do. It was like the end of the Hatfield days. I really loved the music and tried, but I didn't come up with the goods. I came up with it in more my own stance, so I didn't fulfill the role, which was a problem for Phil. So it wasn't too much of a shock for me when they said, look, we're going to have other people in the band... For me, it was quite a relief, honestly, because I had my own things to do...".
Where are they now?
Phil Miller continued to lead In Cahoots until 2011, when the band's final album Mind Over Matter was released. He was also a member of The Relatives, featuring his old Delivery bandmate Jack Monck on bass. There is a Phil Miller legacy website with more information and lots of audio and video archives.
Richard Sinclair played with various one-off groups until the end of the decade. In 1990, he reformed Caravan, and the following year started leading his own group, Caravan Of Dreams. He released two solo albums, Caravan Of Dreams (1992) and R.S.V.P. (1994). Sinclair worked with Miller again, singing and playing bass on the track "Dada Soul" on Miller's album Split Seconds, and with Pyle on his R.S.V.P. album and subsequent tour dates in June 1994, and Pyle's Seven Year Itch album.
Hugh Hopper concentrated on his own bands, as well as playing with Short Wave and Mashu among others.
Steve Franklin has since been in the band Conglomerate.
Pip Pyle left In Cahoots in December 2001 to lead his own group, Pip Pyle's Bash, featuring former In Cahoots colleague Fred Baker, alongside Patrice Meyer and Alex Maguire
Last updated : April 2018