HENRY COW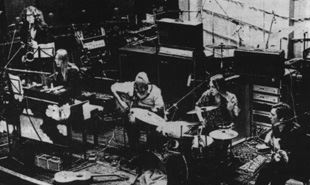 Was Henry Cow a Canterbury band? Geographically, certainly not : most of its members had met while studying at Cambridge University. Musically, it's another problem, though : all members of Henry Cow have been involved in collaborations with Canterbury groups and artists at one point or another, and most of them still are. But while the music of Henry Cow took some of its roots in the Canterbury school, most notably early Soft Machine, other influences are discernable (Frank Zappa, Bela Bartok, Kurt Weil...), and furthermore Henry Cow in turn spawned its own kind of 'scene', known as the 'Rock In Opposition' school, named after the collective they had formed in the late 1970's with other European bands of similar political orientation, the spirit of which has lived on to this day, musically if not ideologically.
The origin of the band's name is obscure. Although it was said many times that Henry Cow was a contraction of the name of early 20th century American composer Henry Cowell, this has been repeatedly denied by the band, although no satisfying alternate explanations were ever offered. Henry Cow was formed in May 1968 by two Cambridge students, guitarist/violinist Fred Frith and saxophonist Tim Hodgkinson, who had met when both played in a dance band. The musical flavour of the original band was very much in keeping with the spirit of the day - "a loose-knit blues-based six-piece group with a Dadaist sense of humour", in their own words.
In October 1968, Henry Cow changed bass players and one Andy Powell was recruited. He was a music student at King's College at the time, and convinced Frith and Hodgkinson to get rid of the other members of the band. The sextet was thus reduced to a trio, with Powell somewhat approximately doubling on drums. It was under Powell's influence that Henry Cow's music started to evolved to a slightly more composed approach. Hodgkinson was encouraged to start learning to play organ, which he did, albeit with some difficulty. But Powell soon left for pastures new, first Roger Smalley's Intermodulations, then the progressive group Come To The Edge, and eventually embarking on a successful career as orchestra arranger for the Alan Parsons Project.
In October 1969, a bass player by the name of John Greaves joined, along with a succession of drummers including Frank Perry, Ashley Brown and Sean Jenkins. It was with the latter that Henry Cow recorded a John Peel session early in 1971, having entered Peel's 'Rockortunity Knocks' contest. The music on that showed how much the band had progressed since its early days, with a couple of typically Canterbury songs, a Soft Machine-like instrumental and an early, extended version of "Teenbeat". Henry Cow then recruited drummer Martin Ditcham (later of Nucleus and Embryo among others, now an in-demand session percussionist) for a series of summer gigs including the Glastonbury Fayre alongside Gong and others.
Left without a drummer once more, Henry Cow went through numerous Melody Maker ads until they finally found the right man, one Chris Cutler, in September 1971. Cutler had been in a variety of obscure rock groups, but had also formed the Ottawa Music Company with Egg's keyboard player Dave Stewart. Henry Cow was soon absorbed into the 20+-piece rock composers' orchestra. In November, they also opened for the Velvet Underground, and early in the following year took part in a rock musical version of Euripides' The Bacchae, writing and performing the musical accompaniment at the Palace Theatre in Watford. Even though the venture was a mixed musical and critical success, it gave Henry Cow the opportunity to solidify as a group.
Around that time, in March 1972, Geoff Leigh, who had been at school with Cutler, was added to the line-up and the resulting quintet spent the Summer playing repertory concerts at Edinburgh's Traverse Theatre, followed by two weeks at Edinburgh Festival playing music for ballet, then a week of concerts featuring the "activities" of artist Ray Smith. Back in London, the band launched a series of concerts and events under the names Cabaret Voltaire and Explorers' Club at Kensington Town Hall, with regular guest appearances by people like Lol Coxhill or Derek Bailey. For the first time, Henry Cow started getting some attention from the rock press, the result of which was being signed to the emerging Virgin label in May 1973.
Henry Cow's debut album, "The Leg End Of Henry Cow " [a.k.a. "Legend"] (an obvious pun on the album's sleeve, the first in series of three 'sock covers'...), was recorded in the late spring of 1973 at Virgin's Manor Studios, with Tom Newman engineering except for the first part of the opener "Nirvana For Mice", on which none other than Mike Oldfield assumed engineering duties. The debut was perhaps the most typically 'Canterbury' of all, skillfully arranged and well performed although constructed more loosely than their later efforts. The titles of some of the pieces ("Nirvana For Mice", "Teenbeat") added a humorous element to the whole, while the closing track, "Nine Funerals Of The Citizen King", penned by Hodgkinson and sung by the whole group, was Henry Cow's first overt political statement.
To promote its new signing, Virgin organised a UK tour of Henry Cow and Faust, who were also signed to the label at the time, in September and October 1973. At that point, Faust featured guitarist Peter Blegvad (also of Slapp Happy) and bassist Ulli Trepte, although the original members they were replacing soon came back to the fold. Some of the gigs included collective jamming between Faust and Geoff Leigh, and sometimes all members of both bands. At the end of the tour (which culminated in a memorable performance at London's Rainbow Theatre), Henry Cow embarked on yet another theatrical production, an adaptation of John Chadwick's The Tempest, and in November recorded a totally improvised 20-minute piece for inclusion on the Greasy Truckers compilation, which was supposed to be a live album recorded at Dingwall's Dance Hall, but since Henry Cow's set that night had been cut down to just over twenty minutes by time constraints, they preferred to record something in the studio instead.
In December 1973, Geoff Leigh decided to leave Henry Cow, following an ill-organised tour of Holland and growing musical differences with the rest of the group. He soon formed his own band, Radar Favourites, with drummer Charles Hayward and guitarist Gerry Fitzgerald among others, and was replaced the following month by Lindsay Cooper, know to Frith and Cutler from her work in Comus and Ritual Theatre, who played bassoon and oboe and had had extensive classical training. In February 1974, Henry Cow returned to the Manor to record their second album, "Unrest".
The first side of "Unrest" is among the best things Henry Cow ever did as far as their particular blend of composed 'chamber-rock' is concerned. Classical and contemporary influences are more apparent this time around, and the mastery of the ensemble playing is impressive, particularly on John Greaves' "Half Asleep, Half Awake". Side two, however, is a very different affair. Short of composed material for the album, Henry Cow found itself having to improvise, using the studio as a sort of compositional tool. Improvisations were recorded onto multi-track tapes, and the results were remixed, with some of the tracks re-recorded, some others played at different speeds, etc. The results have some resemblance to "musique concrète" experiments, and are definitely an acquired taste.
In August 1974, following a European tour supporting Captain Beefheart, Henry Cow decided to carry on as a quartet, and toured Holland using as raw material three minutes of written music which later grew into "Living In The Heart Of The Beast". This was followed by almost a year off the road.
During the autumn, the band decided to get together with with Slapp Happy, Peter Blegvad's trio with singer Dagmar Krause and pianist Anthony Moore, whom Henry Cow had helped getting a contract with Virgin (Frith, Cutler and Cooper had also played on a SH Peel session the previous June, as documented on the collection of Robert Wyatt rarities "Flotsam & Jetsam"), to record an album. "Desperate Straights" (almost entirely composed by Blegvad and Moore) was produced at the Manor in November 1974, and it was decided to amalgamate the two bands into a single ensemble.
A second joint effort, "In Praise Of Learning" (more of a Henry Cow album, in the same way "D.S." had really been conceived as a Slapp Happy record), was recorded in February and March 1975, but Blegvad and Moore's involvement in the final work turned out to be minimal, only Dagmar's integration proving successful in what was not so much a Slapp Happy/Henry Cow album as an Henry Cow album with guest appearances by members of Slapp Happy. When the septet started rehearsing with a view to performing live together, it appeared that both approaches were incompatible - Moore quit and Blegvad was asked to leave. In April 1975, having guested on both albums, Lindsay Cooper rejoined what was to be Henry Cow 's "classic" sextet line-up.
In May and June 1975, Henry Cow played three concerts with Robert Wyatt as special guest in Paris, London and Rome. Their performance of "Bad Alchemy" and Wyatt's "Little Red Riding Hood Hit The Road" in London was later included on the "Concerts" double-LP, which was released in 1976 (first on the Norwegian underground label Compendium, then on the budget Virgin sub-label Caroline) and compiled live recordings and a splendid BBC radio session from the period of September 1974 to August 1975 (including great renditions of Cow classics, but also interminable - to some - sidelong improvisations).
At that point, in March 1976, John Greaves decided to leave Henry Cow to start working on a duo project with Peter Blegvad that later materialised as the landmark Kew.Rhône album. Around the same time, Dagmar Krause temporarily left the fold because of health problems. Henry Cow reverted to a quartet of Frith (doubling on bass), Hodgkinson, Cooper and Cutler, and abandoned composed material in favour of pure improvisation while touring in Scandinavia. Around the time Dagmar rejoined, in June 1976, bassist/cellist Georgie Born, who had studied at the Royal College of Music and played with the jazz-rock group the Hi-Tones in addition to performing various forms of music ancient and modern. Further touring followed, mainly on the continent, although Henry Cow did tour in England that year, bringing French band Etron Fou Leloublan over for a joint tour.
In February 1977, Henry Cow became involved in the Orckestra, an expanded grouping that found them working with Mike Westbrook's Brass Band and folk singer Frankie Armstrong. This had grown out of the various musicians' benefit work for the Communist party. After a meeting in France, they had shared the bill at a benefit concert and when the Moving Left revue came up at London's Roundhouse they had decided to work together. Other concerts followed, notably at Regent Park's Open Air Theatre and in Europe, but the Orckestra failed to generate any new material, and no recorded legacy was left of its existence.
On the 26th of October 1977, Henry Cow issued a press release announcing that it was leaving Virgin for good, and that Dagmar Krause was leaving the band due to her poor health, although she would still perform with them on special occasions, including further Orckestra concerts and the recording of a new album. However, in the weeks leading to the sessions, strong musical differences emerged between band members. Frith and Cutler were in favour of song-oriented material, and Cooper and Hodgkinson on the other, who were contributing purely instrumental compositions.
The recordings made at Sunrise studios in Kirchberg (Switzerland) in January 1978 eventually gave birth to two separate albums. The songs were put out as "Hopes And Fears" under the name of Art Bears, consisting of Frith, Cutler and Dagmar Krause with the others credited as guests ("most of that material was generated on the way to the studio and in the studio, because of problems with the music we had planned to record"); the instrumental material was released, with additional recordings made later that year, as the Henry Cow album, "Western Culture". However, this decision practically meant the end of the band, as the musical aspirations of its members were now proving incompatible.
"After decided to split", Cutler explains, "we consciously organised eight months of work, to visit and say goodbye to everyone who had supported us through the years. And we wrote a complete set of new material". In February 1978, Henry Cow undertook a tour on the Art Council's Contemporary Music Network - the first rock band to do so. On the second date of the tour, Georgie Born decided to leave, but the others persuaded her to stay until it was completed. She had never managed to become a part of Henry Cow ("after John Greaves left, the consistent, solid fabric of the group was cracked and never renewed", Cutler later said), although the band was satisfied with her high level of musicianship.
March 1978 saw the fruition of the 'Rock In Opposition' project, with several European bands (Univers Zéro, Samla Mammas Manna, Etron Fou Leloublan, Stormy Six) playing under that collective banner at a festival in London on March 12th. In late July and early August of 1978, Henry Cow regrouped to resume the recording of its final album, now consisting of one side each devoted to Hodgkinson and Cooper's compositions (titled "History And Prospects" and "Day By Day" respectively).
By the time "Western Culture" was released (on Henry Cow 's own label, Broadcast, as Art Bears' "Hopes And Fears" had been), the band had announced its breakup in a press release that said : "In our tenth year we are ceasing to operate as a permanent group although the musicians in the group are certain to work variously together in the future. Our own relations are still those of admiration and respect. It is only the group as a corporate and separate entity which can progress no further. Although the group as a commodity, as a name, ceases to exist the work of the group will go on - the group is disbanding in order that this work, what we have stood for, can continue. The medium between us and our audience has become heavy and ossified, the work now is better pursued in several ways simultaneously and not under the umbrella of 'Henry Cow': the group is no longer strong enough to carry this weight and we, in turn, can no longer collectively or individually, carry the group our carapace has turned from a strength to a weakness and we have to force ourselves not to hide behind it. We will not settle into the role of being 'Henry Cow' and reproducing our past to earn our pension".
And they indeed never did! But although Henry Cow died as a band in 1978, it has lived on in terms of a musical spirit and a family of like-minded musicians who have kept playing together in various combinations ever since. Art Bears, with the trio line-up of Frith, Cutler and Krause, went on to record two further albums. Cooper and Born briefly joined National Health in late 1978, then moved on to the Feminist Improvising Group before Cooper started a critically-acclaimed career as a solo artist (Cutler collaborated on several of her projects, for instance with her Film Group, and later Oh Moscow!) Hodgkinson formed The Work (which Cutler joined for a Japanese tour in 1982) and Officer among others, and in 1994 released his first solo album Each In Our Own Thoughts which brought together many of his ex- Henry Cow colleagues (as had the Last Nightingale fundraising LP for the 1984/85 miners strike). Cooper, Cutler and Krause were reunited in the mid-eighties for the News From Babel project. Frith, Cutler and Hodgkinson have played improvised duo and trio gigs. Lastly, Peter Blegvad's current trio features the Henry Cow rhythm section of John Greaves and Chris Cutler.
Furthermore, new "honorary" members have joined the family over the years, including guitarist Bill Gilonis (a member of Hodgkinson's post-Cow band The Work), the late American cellist Tom Cora (with whom Frith formed Skeleton Crew in the early eighties) and harpist Zeena Parkins (who was in both Skeleton Crew and News From Babel). The musical legacy of Henry Cow is alive and well !
There is a chronology of Henry Cow's career on this site.