GILGAMESH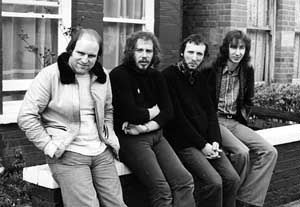 Gilgamesh, spring 1974 : Mike Travis, Alan Gowen, Phil Lee, Steve Cook
---
When was Gilgamesh formed? When did it split up? When did it reform?
Gilgamesh was formed in the autumn of 1972. It split up in late 1975, shortly after the release of its debut album. It was revived sometime in 1977 for occasional rehearsals which led to the recording of the second album in the summer of 1978.
What were the main line-up changes in the band's history?
The original nucleus of Gilgamesh was the duo of Alan Gowen on keyboards and Mike Travis on drums. After a series of line-up changes involving players like Rick Morcombe, Jeff Clyne, Alan Wakeman and Richard Sinclair, the quartet stabilised in early 1973 with the arrival of Phil Lee on guitar and Neil Murray on bass. There were then a few changes of bass player, with Murray being replaced by Steve Cook, Mont Campbell and finally Jeff Clyne again for the album sessions.
After leaving National Health in March 1977, Gowen started work on new compositions, and occasionally assembled an informal line-up of Gilgamesh - consisting of himself, Phil Lee, Neil Murray and Trevor Tomkins - to rehearse it. When the time came to record a second album in June 1978, Murray was replaced by Hugh Hopper, but this line-up only lasted for the duration of the sessions.
How did the original members meet? Had they worked together previously?
Gowen was previously in a band named Sunship. When that band's drummer, Jamie Muir, left to join King Crimson in July 1972, Gowen started working on a new band project with guitarist Rick Morcombe. Jamie Muir recommended his old friend Mike Travis from Edinburgh, who had now established himself on the London jazz scene. Connections on that scene then provided Alan Wakeman and Jeff Clyne. When Morcombe left, Travis recommended Phil Lee, and Gowen met Neil Murray at a party. When Murray left, Steve Cook joined, having been a member of CMU, the band led by Gowen's old friend Roger Odell (later Shakatak's drummer). Trevor Tomkins, the drummer on the second album, was a longtime collaborator of Phil Lee on jazz gigs.
Why did they choose the name Gilgamesh?
In Assyro-babylonian mythology (around 3000 BC), Gilgamesh was a legendary god-king of Sumeria who discovered the secret of eternal life. Gilgamesh's quest for immortality is described in an epic poem, written on clay tablets in a complex cuneiform alphabet, that was discovered just over a century ago in the ruins of Mesopotamia (modern Iraq). The band chose that name following suggestion from Clive Merredew, a photographer friend, who had a book called "The Epic Of Gilgamesh".
How many albums did Gilgamesh release? On which labels?
Gilgamesh released two albums : "Gilgamesh" (late 1975) on Caroline Records (then a sub-label of Virgin) and "Another Fine Tune You've Got Me Into" (February 1979) on Charly Records.
The American label Cuneiform Records released a CD of archive recordings by Gilgamesh entitled "Arriving Twice", in September 2000. This consists of previously unreleased recordings from 1973-75 featuring Alan Gowen, Phil Lee, Mike Travis, Neil Murray, Steve Cook, Jeff Clyne and Peter Lemer. It includes several previously unreleased compositions, most notably "Extract", a theme from the unrecorded Gilgamesh/Hatfield and the North double-quartet piece.
Have these albums been reissued on CD? On which labels?
Both albums were reissued in 1990 by a Japanese label, but the pressing soon went out of print. "Another Fine Tune..." was reissued by French label Spalax in 1995, and "Gilgamesh" followed in 1997, on Caroline's parent label Virgin. More recently, both albums have been reissued by the Esoteric Recordings label.
Who were the band's main composers?
Gilgamesh was formed by keyboardist Alan Gowen as a vehicle for his own writing (initially the band was more or less co-led by guitarist Rick Morcombe). Consequently he wrote the majority of the material, although Phil Lee, and later Hugh Hopper, sometimes contributed to the writing.
How much, and where, did the band tour?
Gilgamesh played only a few gigs, mainly in and around London (they only ventured as far outside London as Brighton). Given its low-key status, Gilgamesh could not be a permanent occupation for its members, who had to work elsewhere to make a living.
Most notable were the band's two double-quartet gigs with Hatfield and the North in November 1973, in Leeds and London. The eight-piece line-up of Phil Miller, Phil Lee, Dave Stewart, Alan Gowen, Richard Sinclair, Neil Murray, Pip Pyle and Mike Travis was the precursor to the 'rock orchestra' concept of the original National Health.
Below are all known gig dates for Gilgamesh :
28/01/1973 - London, British Student Council (only gig by the original line-up)
12/06/1973 - London, College of Furniture
24/06/1973 - Croydon
08/07/1973 - Brighton, King & Queen
31/07/1973 - Greenwich [London] Theatre
12/08/1973 - Brighton, King & Queen
26/08/1973 - Greenwich [London] Theatre
09/09/1973 - Finchley (North London), Moss Hall Tavern
24/10/1973 - London, Phoenix Club
04/11/1973 - Leeds, Polytechnic [double-quartet gig with Hatfield and the North]
23/11/1973 - London, Notre-Dame Hall [double-quartet gig with Hatfield and the North]
03/03/1974 - Bishop's Stortford, Angel Underground (as advertised in Time Out)
17/03/1974 - Bishop's Stortford, Angel Underground (from Steve Cook's diary)
16/04/1975 - London, South London Polytechnic
17/09/1975 - London, Phoenix Club [augmented by Dave Stewart]
What were the reasons for the band splitting up?
Rick Morcombe left because of disagreements on the direction of the band. He subsequently became a session player, but also co-led the original Strange Fruit with Nucleus keyboardist Geoff Castle, and in the 80s co-led a band with Jeff Clyne. After living in Monte-Carlo for several years, he recently went back to live in London and is a member of Ba-Ba-Da, a jazz-rock band which also includes Geoff Castle and Clark Tracey. They released an eponymous, self-produced debut CD in spring 2000
Neil Murray left to join Hanson, a Hendrix-type band led by former Bob Marley sideman Junior Hanson. Following his stint in National Health in 1976-77 he has played in various major hard-rock bands such as Whitesnake, Black Sabbath, the Gary Moore Band, Brian May's band...
Steve Cook left due to musical differences, to join the touring version of Seventh Wave, then work with Annette Peacock, Mirage, Soft Machine and Mike Westbrook. He is no longer involved in music on a regular basis, although he occasionally plays in Peter Lemer's jazz trio alongside drummer Roger Odell.
Mike Travis left in order to "earn a better living". He played on Hugh Hopper's "Monster Band" album in 1976, and in 1979 moved back to his native Edinburgh.
Where are they now?
After the first incarnation of Gilgamesh broke up in 1975, Alan Gowen went on to form National Health with Dave Stewart, the original line-up of which also included Phil Lee. He later formed Soft Heap [in late 1977], reformed Gilgamesh for a second album in 1978, rejoined National Health in 1979-80 (a period documented on the upcoming CD "Play Time", to be released in January 2001 on Cuneiform), and recorded the albums "Two Rainbows Daily" with Hugh Hopper, and "Before A Word Is Said" with Phil Miller, Richard Sinclair and Trevor Tomkins. He died of leukaemia in May 1981.
Jeff Clyne went on to form his own band, Turning Point, in early 1976 with his former Isotope bandmate, keyboardist Brian Miller. That band gigged intensively in the UK and released two albums before splitting up in late 1980. He is still active on the British jazz scene.
Mike Travis moved back to Edinburgh in 1979 after playing in Stomu Yamash'ta's East Wind and with various Hugh Hopper projects. There he joined the band Cado Belle, featuring singer Maggie Reilly. He still plays jazz and folk gigs in Scotland.
Both Phil Lee and Trevor Tomkins have been mainstays of the London jazz scene since the late 1960's and can still be heard playing in various club gigs and workshops.
Last updated : December 4th, 2011