EGG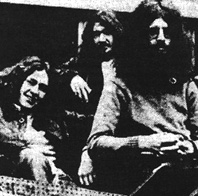 [Left to right: Clive Brooks, Mont Campbell, Dave Stewart]
Egg evolved out of Uriel, after they'd lost their guitar player, Steve Hillage, who left in the summer of '68 to resume his studies at the University of Kent in Canterbury (where he later met members of the 'Caravan Family'). This left Dave Stewart (organ), Mont Campbell (bass/vocals) and Clive Brooks (drums) with a new musical concept to define (after deciding they'd now dispense with a six-stringer). For a while, the name Uriel was still used, but by early 1969 their management got them to change for Egg.
So far, they'd only played covers (or personal arrangements of others' compositions), but with Campbell's writing abilities now evident, the trio decided to focus on original material. Both Stewart and Campbell had classical influences, and were inspired by Keith Emerson's pioneering classical/rock fusion with his band The Nice, also an organ/bass/drums trio.
Eventually, Egg's music became very complex and tight, using riffs played in unison by organ and bass and constantly changing time signatures. No wonder their first (and only) single was named "Seven Is A Jolly Good Time", referring to the unusual structure (in 7/4) of its chorus. As with most of the songs they would perform (their repertoire was a balanced mix of vocal and instrumental material), Campbell's lyrics displayed a typically British, tongue-in-cheek sense of humour, that was to become the trademark of the Canterbury movement. This is one of the reasons for which Egg can be considered an integral part of the Canterbury School, even though direct links only happened later, when Stewart joined Hatfield and the North (and Steve Hillage, at the same time, joined Kevin Ayers, then Gong).
During its four-year existence, Egg released two albums on the Decca label, "Egg" (1970) and "The Polite Force" (1971). Both included one very long instrumental piece that filled the entire second side of the vinyl. Although a number of the tracks may now sound naïve (for instance the arrangement of Bach's "Tocatta" on the first album) or dated, these are undeniably pioneering works. Pre-dating by several years the birth of the R.I.O. movement, which followed the same idea of mixing classical and rock elements, without the over-the-top and purely "rock'n'roll" indulgences of Emerson and the like, yet not without a healthy dose of humour.
After struggling for over a year with hardly enough gigs to survive, Egg eventually broke up in July 1972, leaving almost an album's worth of unrecorded compositions, some of which had become stage favourites. So when the opportunity came, in the summer of 1974, to record a third album for the Virgin sub-label Caroline Records, the trio was re-united for "The Civil Surface". In addition to the old pieces, a couple of wind quartets on which Campbell was working on at the time were used to fill up the album. Guest participants included Steve Hillage, The Northettes and Henry Cow's Tim Hodgkinson and Lindsay Cooper.
Following the break-up of Egg, Clive Brooks had joined the Groundhogs, a blues-rock band with whom the trio had toured several times, and worked intermittently with them (or leader Tony McPhee in a solo context) until the early 80's. As for Mont Campbell, after a 1-year stint in the original line-up of National Health (1975-76), he stayed out of the public eye for two decades, and only returned in 1996 with his first solo album, "Music From A Round Tower".
There is a chronology of Egg's career on this site.